Great minds learn through experience
At Arnold Bloch Leibler, continuing professional development is part of our DNA. Our approach is founded on the principle that we never stop learning.
From your very first day, you will work alongside thought leaders in the profession on important and complex cases that will provide opportunities to flex your thinking, offer direct input and gain in-depth knowledge. Your opinions will be respected and you'll be given autonomy to progress matters. Your contribution will be valued and you will be supported in your personal and professional growth.
Our approach to your learning and development is underpinned by four key pillars:
Our Law Graduate program
Our graduate trainees are not rotated formally between practice areas. Instead, you'll be assigned to a practice area for 12 months, which means you'll be treated as a permanent member of the team and will have opportunity to make real and meaningful contribution. Your supervising partner will invest in your development and involve you in every aspect of their day-to-day. You will be fully immersed into real matters, with opportunities to attend client meetings and court hearings.

You will still be exposed to a wide variety of legal work, as our practice areas are fluid and multi-disciplinary. On the off-chance that you are unhappy in your practice group, you will be given the option, at your six-month review, to remain with your group or move to a different practice area. We want you to find your best fit – because that is where you will thrive.

Unlike other firms, we have developed our own accredited Supervised Legal Training (SLT Program) for your graduate year. It consists of more than 50 sessions that are delivered entirely in-house. The sessions are led by our own highly experienced partners and lawyers – all experts in their field. The content is practical and hands on, covering case studies and working groups.
Key dates
Applications for the 2024 Melbourne intake are now closed.
Applications for the 2024 Sydney intake are still open.
Application process
For students who have previously clerked with us, you will be required to complete an application similar to your clerkship application which will include an updated cover letter, CV and your most recent academic transcript.
For law graduates coming to us from market, our application process is straightforward, so you will need to make an impact right from the start. We require you to submit a covering letter, a copy of your CV and an academic transcript.
The emphasis on a considered covering letter is critical. It is an opportunity for us to get to know you, how you are different, and discover why you would like to work at Arnold Bloch Leibler.
Apply now
Great minds enjoy a challenge
At Arnold Bloch Leibler, our lawyers are exposed to a diverse range of clients and matters, and thrive off working on the most challenging and complex work in the market. This exposure enables them to build their expertise and legal and commercial acumen.
Our internal structure is different from our competitors. Our lawyers are trained to be 'generalist specialists' and are able to straddle a range of different legal problems, as opposed to only being specialised in a narrow field.
For example, you might choose to be a finance lawyer, working across corporate finance, property & development finance, restructuring and insolvency. In addition to your core finance work, you will also be exposed to broader commercial transactions like shareholders and joint venture agreements, equity transactions, fund management and financial services – instead of specialising in just one of these areas. In doing so, our teams maintain a client-centric focus.
This approach requires the ability to think differently – you need to cover more ground and be attuned to a broader range of issues. The feedback from our lawyers is that, whilst more challenging, the satisfaction that comes from achieving excellent outcomes for our clients is rewarding and propels their career at a faster pace than would otherwise be the case.
Law Graduate experience
At Arnold Bloch Leibler we look for graduates who are seeking to contribute something extraordinary.
We value good grades and a sharp intellect as our work is complex and intellectually challenging – but our shortlisting process does not end there. We value life experience, lateral thinking, commercial acumen, resilience, imagination and a passion for the law.
We appreciate people who use initiative and can accept shared responsibility for their career development, with a willingness to learn and a sense of humour.
Use the arrows to hear from our lawyers about their careers at Arnold Bloch Leibler.
Vanessa Filipendin
Law Graduate, Melbourne
"I was very aware of the drive and determination of ABL, as a mid-sized firm, to punch above its weight in the market by taking on smart, entrepreneurial clients and their most complex matters. I knew that the firm placed enough trust into its new lawyers to put them in front of clients from "day one" and would give me real ownership over my work."
Daniel Lopez
Lawyer, Melbourne (currently completing an Associateship)
"I started at Arnold Bloch Leibler as a seasonal clerk and was offered the opportunity to return as a law graduate. I enjoyed the opportunity to work on exciting matters, with a level of responsibility to support the early stages of my career. The level of individual attention, mentoring and unparalleled training offered by partners and other lawyers made my decision to return to Arnold Bloch Leibler much easier."
Olivia Jay
Lawyer, Melbourne
"My experience as a graduate at Arnold Bloch Leibler has been fast-paced, stimulating and diverse. From my earliest days in the firm, I have been given the opportunity to work on cutting edge matters under the guidance of practitioners with admirable intellect and instincts. I have been encouraged to take on responsibility with the assurance of being appropriately supported, and have developed my own style as a lawyer in the capable hands of the litigation team."
Natalie Ryan
Lawyer, Melbourne
"I was first introduced to Arnold Bloch Leibler by participating in the Monash University Takeovers Competition in 2019, which my partner and I won. Discovering a keen interest in Corporate & M&A law, I was then provided the opportunity to paralegal and clerk with the team, which cemented my decision to return as a law graduate. For me, it was an easy decision to join the firm as an early career graduate and lawyer, as it was clear that the firm's structure would allow my exposure to interesting and varied matters, esteemed clients and dedicated mentors from Day 1."
Alexander Rasmussen
Lawyer, Sydney
"ABL provides you with the tools to succeed through practical experience, market-leading learning and development programs. You are encouraged and supported to pursue external career development, and higher education opportunities. The partners and senior associates have a vested interest in your development and support you every step of the way."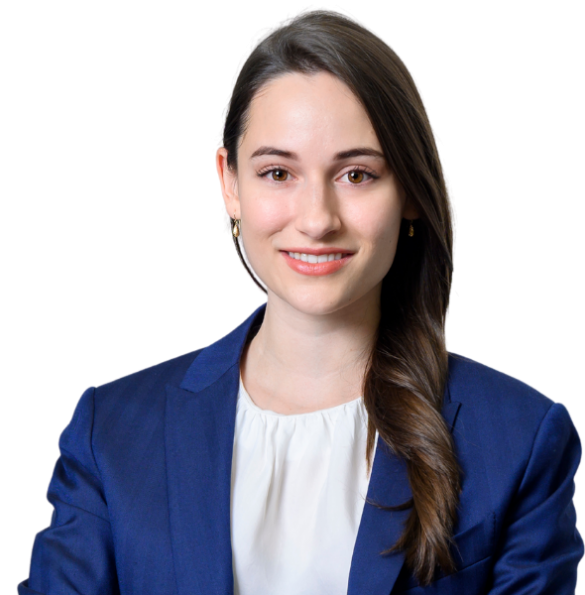 Practice areas
Our services cover:
Banking & Finance
Competition & IP
Corporate & Commercial
Dispute Resolution & Litigation
Employment & Workplace Advisory
Native Title & Public Interest Law
Property & Development
Restructuring & Insolvency
Taxation
View our full list of established practice areas here.
Great minds have global reach
Our firm advises entrepreneurial family-owned businesses, ASX listed companies, private clients and international corporations. Our clients turn to us for advice and support on their most complex and high-stake legal matters and transactions, when strategic decisions and 'out of the box' commercial thinking is required. 
With a reputation built on a long history of success, our lawyers are often at the centre of law reform and regularly advise on landmark matters. We pride ourselves on our ability to deliver innovative strategic guidance and solutions to protect our clients' commercial interests, legal position and reputation.
We enjoy long-standing relationships with a select group of other professional advisors, including accountants, hedge funds, insolvency practitioners, private bankers and equity firms as well as overseas-based specialist law firms.
You will work on real matters and start to build relationships with real clients from day one. We believe this direct contact will set your experience apart from your peers' in the profession.
You can find out more about some of our clients and matters below.
Great minds celebrate difference
At Arnold Bloch Leibler, our approach and longstanding deep commitment to diversity and inclusion has been, and always will be a significant aspect of the firm's culture.
Our aim is to be a workplace where everyone feels a sense of belonging and where individuality is respected, valued and harnessed.
We are committed to providing our people with equality of opportunity in realising their professional and personal aspirations while providing our clients with the very best outcomes. Our clients come to us recognising the value of innovative thinking. The level and quality of creativity we offer is a distinct by-product of our approach to diversity and inclusion.
Find out more
Great minds give back
Giving back to the community, by making a real and valuable contribution, has always been one of our core values. We have a stand-alone pro-bono practice group, which all our lawyers are given the opportunity to be involved with.
The firm engages with many not-for-profit and charitable organisations that are active in community, social, health, research, religious and environmental sectors.
The firm is deeply committed to indigenous constitutional recognition and reconciliation, with over a third of all pro-bono hours provided to Aboriginal and Torres Strait Islander organisations and communities.
This was recognised in 2017, when we were awarded the prestigious Lawyers Weekly Pro Bono Program of the Year for our unparalleled work with Aboriginal and Torres Strait Islander peoples, communities and organisations. This was reconfirmed in 2020, when partner Peter Seidel was awarded the Lawyers Weekly Pro Bono Partner of the Year award for his extensive work in support of our public interest clients.
National Pro Bono Target
Giving back to the community has always been and will continue to be a core value at Arnold Bloch Leibler and the firm remains a proud signatory of the Australian Pro Bono Centre's National Pro Bono Target.
Last year, we acted for more than 200 public interest law clients and the matters we worked on varied from test case litigation to corporate governance, tax and commercial advice, as well as administrative law and contractual advice.
The 70.5 hours of pro-bono work carried out on average by our lawyers was almost double the national average of 39.7 hours for Large Firms, and more than double the National Pro Bono Target of 35 hours.
Peter Seidel
Partner, Public Interest & Native Title
"We view and utilise the law as an instrument of social justice. It is not simply what we do - it is part of our identity as a firm, valued and respected by our clients, partners and staff across the board. It's in the DNA of each and every one of us at ABL."
Bridgid Cowling
Special Counsel, Public Interest & Native Title
"ABL's commitment is firm-wide and runs really deep - from the leadership provided by senior partner Mark Leibler, right through to the enthusiasm of our seasonal clerks, and across professional and support staff. The length and depth of relationships we build with our clients and the passion we put into our advocacy is unparalleled."
FAQs
How many graduates does the firm take and when does the graduate year start?
We take between 25-30 graduates each year. The graduate year commences in early March.
Does the firm go directly to market for graduate offers?
Following the priority offer process, we generally hire graduates from the market for both the Melbourne and Sydney offices. Any market roles will be advertised on the careers section of the ABL website.
Does the firm offer deferment of a graduate offer?
If I clerked in the Melbourne office, can I apply for a graduate position in the Sydney office?
Yes, definitely. Many of our people either clerked, or commenced their careers in one of our offices before relocating to our other office.
Is a graduate offer for a particular department?
No. You will receive a graduate offer and like the clerkship process, a practice area preference form.
If you undertook a seasonal clerkship with us, you do not need to select the practice group you clerked in. The human resources team will work closely with you to obtain your first preference, pending the needs of the firm.